MGL Enigma
The Enigma was our first Color EFIS. It set new benchmarks for functionality when it was first released. For the first time a small 5.7" screen sized EFIS provided built in GPS, navigation including connectivity to VOR/ILS sources, synthetic vision including 3D runways, terrain warning, engine monitoring and with later firmware released even a complete autopilot - just connect servos.
Enigma was discontinued in 2013 after a long production run due to the display module being taken out of production without a suitable replacement. Due to the development of the much more powerful iEFIS Discovery and Discovery Lite EFIS it was judged that re-engineering the Enigma was not an option.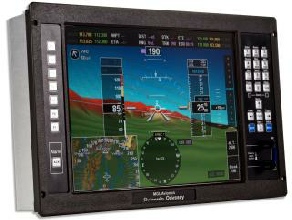 MGL Voyager and MGL Odyssey
Released first was the MGL Odyssey featuring a large 10.4" VGA screen. This was followed quickly by the Voyager which provided identical functionality in a 8.4" screen to suit smaller aircraft panels.
Building on the Enigma, these instruments brought large screens and extended interface possibilities.
A new CPU card brought these instruments to G2 level, providing fater performance and a dedicated GPU allowing beautiful graphics to augment the impressive functionality. The G2 also featured both video inputs for applications such as FLIR cameras as well as video output to drive secondary screens or recording devices.
Owing to the modular design, it became possible for owners of G1 systems to upgrade to G2 at low cost - a first in the EFIS World.
These instruments where discontinued in 2013 as the display modules where no longer available. The iEFIS Explorer and Challenger are the replacement systems.